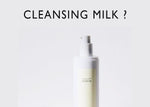 Any good skincare would not work properly 
if there is no good cleansing.
Pick correct cleansers 
for your skincare routine and skin type.
MILK CLEANSER
Cleansing milk is one of the mildest types of cleanser and it is generally safe for all skin types even sensitive and trouble skin types. If you don't want to irritate your skin or if your skin is sensitive, cleansing milk would be a good choice.

Sioris Cleanse Me Softly Milk Cleanser is already so well known in Korea about its safe and clean ingredients. Jeju (volcanic island in Korea) organic citrus extract takes 61% of this cleanser and macadamia oil takes 10%.  

No PEG or EDTA which may cause skin troubles. Botanical extracts are used to be even more safer to your skin. 
Click the product name to shop. 
FOAMING CLEANSER
Rich and soft foam always make you feel happy during cleansing. Foaming cleanser is recommended for cleansing pores. 

Klairs Rich Moist Foaming Cleanser combined pore cleansing and moisturizing very well. Hyaluronic acid, ceramide 3, aloe vera leaf extract, and olive oil is contained to provide the hydration even after washing. Tea tree oil and houttuynia cordata extract essential is blended to calm down skin troubles. 


Super smooth and soft foam will minimize the irritation on skin during cleansing. Good for sensitive skin and trouble skin.
Click the product name to shop.
CLEANSING BALM
Cleansing balm is mainly oil-based and good for removing even lip & eye makeup. 
Many beauty lovers adore lovely melting texture of cleansing balm. It is also easy to bring for travel as there is no worry to spill over in your pouch. 

Enature Moringa Cleansing Balm also has lovely sharbet texture and gently melts with body heat. Feel after wash off this cleansing balm is such a shock. There is zero oiliness or stickiness but only hydration left on your skin. Cleansing works very well even with very small amount of using. 
Click the product name to shop. 
CLEANSING WATER
When you need to cleanse out sebum and dead skincell without irritation, cleansing water would be a smart choice. Many of cleansing water types are no wash-off so it is very convenient for simple cleansing step. 

Neogen Real Flower Cleansing Water is also no wash-off type. Botanical extracts work in a very mild way on sensitive skin.
Click the product name to shop.