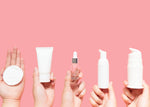 Since I have started BeautyOn82 and more people has been fascinated to Korean skincare, many people including our customers and the ones around me asked many questions about Korean skincare and products.
I thought it would be great to share these questions which have asked me frequently. 
Q1. Why K-Beauty is all about skincare, not makeup?
A: We do make up :) But the main point of makeup is 'natural looking makeup'. It means you minimize the makeup but simply cover some skin flaws. In order to minimize the makeup and cover the flaws, most important thing is to have good skin. Hydrated and healthy skin makes you look radiant itself. Also, you can be more yourself when you are free from heavy makeup
Q2. Are you using 10 step skincare routine which is well known in the internet?
A: No. I don't use 10 step skincare routine and I have never used it. Ingredients in cosmetics especially in cream, serum, ampoule, essence and so on are most likely similar but textures and content (concentration) are different. Thus, you don't have to use similar products several times. Important thing is to know your skin type and create your own skincare routine by referring to those guide. 
Q3. Do Koreans have good skin (of course in general) because of this multiple skincare steps?
A: Yes and No. Most of Koreans have their skin care routine as cleansing - toner - moisturiser - eye cream or serum (it depends) at least. Even men in young generation have the routine as toner - moisturiser - essence or serum. The more products don't mean the better skin. However, we definitely have this skin routine and that's what I have done so far as well. Of course skin routine is not the only matter for good skin but I agree that these are necessary steps to make each skincare products work good in combination and your skin get balanced.
Q4. Why do I need to use a toner? I've never used a toner. 
 A: Toner helps your skin to be optimized in order to accept the nutrition from the next step of skincare. We mostly feel that face becomes dry after washing. Toner helps the pH level of skin to be balanced. If you start to use toner before any moisturiser, I believe you will feel difference. I also have used a toner entire my life and never miss it out. 
Q5. K-Beauty says about 'routine'. What routine should I have?
A: Routine is 'a sequence of actions regularly followed' according to the dictionary. So it is good to include top 3 keywords - moisturising, suncare, good cleansing to repeat it daily bases. For example, my day routine is cleansing - toner - moisturiser- facial oil (in winder) - sunblock. Night care is cleansing - toner - moisturiser - vitamin C or eyecream (upon the necessary).
Q6. Why suncare should be in routine? I do it only in summer.
A:  I remember when I was early 20s, my cousin had flawless tanned tone skin. I asked her what is her secret to have that good skin, her answer was " I put sunblock cream everyday even when I just go shopping to supermarket". It was her simple secret and she still has good skin without visible deep wrinkles. 
UV is the biggest threat to cause skin aging! and UV exists all year around, not just in summer. Even though you don't go to the beach or do outdoor activity, it is good to use sunblock cream daily. Once wrinkles, fine lines, blemish start to happen, it is VERY difficult to get rid of them. Cosmetics are not medicine - they only help skin to be healthier and delay aging. They will not remove wrinkles and blemish completely. 
Q7. I see 'double cleansing'. What is double cleansing and do I need it?
A: I prefer double cleansing because one step cleansing does not completely remove the sebum and makeup residue unless you put lots of efforts on cleansing. However, cleansing should be the way without irritating your skin.
The way I am using for double cleansing now is using toner with cotton pad. Put appropriate amount of toner on cotton pad and swipe gently. You will be surprised to see the dirts on cotton pad. This way can tone your skin and remove the sebum at the same time. It is good to use 'toner pads' products as well. 
Q8. I heard the daily sheetmask routine. What is this?
This way is to use the sheetmask everyday and it has been a big trend in Korea recently. I personally recommend to use sheetmasks max 3-4 times a week. Sheetmask already contains concentrated essence in it - so it is good to let your skin take a rest 1-2 days. 
Q9. When do you recommend to use sheetmasks?
 A: It is good to use anytime but when you can not have your daily skincare routine (i.e traveling) or when you need some intensive care (after outdoor activity, sheetmask works the best. Try sheetmask just the day before the important day as well! You will glow more than ever on your big day.
Q10. Does K-Beauty work in European weather?
A: I totally believe so. I have also seen many cases including our customers who absolutely love K-Beauty. We, BeautyOn82 focus on curating products with clean ingredients and from companies who have good philosophy. As we said above, skincare and using cosmetics is 'routine' that we do daily. Thus, it should be good and clean. These will work good in Europe for sure as well regardless of weather.
Do you have more questions? Please let us know!
I would love to share the stories with you.