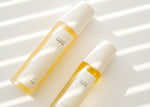 How was your the year 2020? It was such an unprecedented year we'have never had before. Not just me and you, but everyone globally. However, we managed to go through and the new year 2021 is coming. It is always exciting to find out what's new and what will come for upcoming year. 
Pandemic slowed down many sides of our daily life but beauty industry is going forward regardless of it. Self-care products were boomed due to lockdown and restricted daily activites. Trouble care products were so popular than ever because of the skin troubles from mask. 
 We hope the year 2021 will be brigher than now. There are many things more out there to be excited about for upcoming new year. here are the beauty trends of 2021 you don't want to miss. 
1. Clean beauty
The boom of clean beauty is going to continue amid pandemic situation. We have been health-concious than ever before and it drove the demand of clean beauty and non-toxinc products. Many of beauty companies already continues to put the efforts to introduce more vegan and organic products, eco-friendly pacakges and no animal testing. Sioris is the Korean skincare brand that use only freshly harvested natural ingredients from Korea and produces vegan/organic skincare products. Whamisa also introduces organic flower fermentated skincare products.  
2. Self-beauty care at home
What social distancing and lockdown impact on our beauty life? We started to spend the majority of the time at home. Most of the beauty ritual happenes at home as well. Makeup became less but skincare has been more. If you can not go to your massage shop or beauty care shop, there are great alternatives giving you the great results with self-skincare at home. COSRX ultimate moisturising honey overnight mask contains propolis and natural beeswax. Apply it over face liberally before sleep and wash off with warm water next morning. You will feel your skin hydrated and glowy than ever before. 
Shop More Cosrx Here
3. Acne care
The sales of skin trouble products were skyroketed during 2020 from mask troubles. Products with AHA, BHA, and PHA (gentle chemical exfoliator) were very popular as they have the ability to cleanse the clogged pores and dry out pimples. This trend is expected to continue in 2021. Although you don't have skin troubles from mask, using 1-2 times of AHA, BHA, PHA products will be helpful to remove excessive sebum and control oiliness in your skincare ritual. Benton Aloe BHA skin toner  removes the dead skincells gently and smoothes out skintexture to be the glowy skin. 
Shop More Acne Care Here
4. Minimalism
Cosmetic and skincare products are daily consuming items working on our skin directly. Those times to read never-ending ingredients list is over. Now it is the time for beauty minimalism. Simple but clean ingredients can work on the skin enough. This formula does not give stress to the skin and let your skin relaxed. Pyunkang Yul Balancing Gel has simple 7 ingredients in it but it works fully on your skin to give deep hydration. Astragalus membranaceus root extract is contained without water. Jojoba seed oil builds the skin barrier to retain the hydration all day.