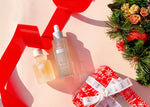 Choosing gifts are not easy. I also used to tell my husband – "Just a letter with your heart is enough for me. I will do the same to you". Yes, I was lazy even to go out for shopping to buy the gifts. There were too many choices but I didn't know what to choose. But it is a big pleasure to exchange the gifts with expectation how he or she loves to get it. If you want to find something both special and personal, beauty gifts are always good answer. Vegan facial toner and moisturiser for 20 years old cousin who just started her makeup and skincare, myultimate moisturiser for a friend who admires my Korean skincare, or eye cream for mom –Any beauty gifts will be much appreciated. You need to know her/his skin type for beauty gifts? Don't worry. Here are the beauty gifts ideas that everyone will ask for regardless of skin type.

1. For Mom – Ultra winter moisturising care

Perfect set for mom who needs anti-aging are day and night. Facial mist will fill up the hydration and hyaluronic night cream will give her dewy plumping skin during night. Ultra winter moisturising set is limited edition and gift wrap included.

2. For friends – at Christmas home party

Sheetmask set contains everything you will want to try from cica, collagen, pore care to soothing care. 5 sorts of sheetmasks are in one package with gift wrap. On-the-go choice for Christmas home party with reasonable budget. This sheetmask bundle gift set will be a great start to bring your friends to the loop of Korean skincare for their dewy skin next year.

3. For 20 years-old cousin with sensitive skin

Basic skincare with vegan and clean ingredients formula is a good choice for sensitive
skin. Let the skin feels comfortable as it is so the skin will strengthen the skin barrier
on its own. If he or she still has the redness concern from teenage skin troubles,
Klairs Midnight Blue Calming Cream will gently calm down redness and help to smooth out the skin
texture.

4. For myself who worked hard and need to brighten up skin

Looking back the whole year – you have worked hard and achieved many things. You
totally deserve to pamper yourself during holiday season. Your skin might have
darkened and skin texture has been rough due to daily stress. Let's smooth out
rough skin texture and remove old sebum with Benton Aloe BHA toner.
BHA is a gentle chemical exfoliator. It gently removes dead skincells and glow up the skin tone. Then add Benton Aloe Hyaluron cream for deeper hydration. Aloe and hyaluronic acid complex give the full moisturisation to the skin.