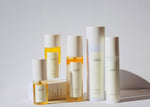 Why We Curate Sioris?
This is 'Good Beauty'
This is the philosophy we aim to introduce and share K-Beauty.
There are many brands out there but it is not easy to find 'good beauty' produced with honesty.

The trend of Korean beauty is going forward to 'good beauty' and 'clean cosmetics'. The importance of ingredients are getting more important to consumers. 
Therefore, cosmetic companies with strong philosophy to make good & clean products are becoming rising stars. 

I also believe that this high level of ingredients awareness of Korean consumers and R&D of cosmetic companies to make consumers happy is one of the reasons that K-Beauty is leading the world beauty industry. 
Photo Credit: instagram @sioris_official
Peak Freshness with In-Season Fruits
Sioris caught our attention mainly two points that :

1. Origin of ingredients are clear and grown with organic farming in Korea.
2. Ingredients are super clean (no harmful chemicals at all).

Thus, shelf life of all the products are 6 months after opening the products. 
See how fresh they are!
From Harvesting To Your Skin
Organic farming and harvesting needs more work and efforts. 

Korean green plum (maesil), citrus, Korean magnolia berries and so on are reaped in one of the cleanest areas in Korea.
Harvesting omija at Mungyeong, Korea
Photo credit: instagram @isaac_sioris
Harvesting maesil at Baekwoon mountain, Korea
Photo credit: instagram @isaac_sioris
Products are suitable all skintypes and desired for sensitive skin as well.
The power of natural ingredients reaped in peak season retains the strong barrier of skin and helps skin to be strong itself from within. 

Want to try? 
Click here and check more!

xoxo
BeautyOn82