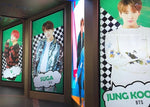 It has been a while since my last blog post. October has been a hactic month traveling Asia including Korea where is my home.
During the trip, I visited the main shopping areas in the city to catch the trends and to see the latest products in Korea. Of course, it was not only me there. I could see more and more tourists than before enjoying shopping. That scene made me come up with 'K-Pop'.
What is K-Pop?
Yes, it refers to Koean pop music. The reason why I talk about K-pop in this blog is that they have been leading the top trend of K-Beauty.
Skincare is not only for girls here. You will be even shocked if you see how even K-pop male stars have such a flawless skin. If you have not heard or not seen any K-Pop starts yet, let me show you these guys who are conquering the pop world globally - 'BTS'. 
Back in the time when they debuted in 2013, their success is phenomenal. Awarded American music award in 2018, twitter followers over 10 million... there are numerous descriptions to tell about BTS. Fans pay attention on everything about them - music, life style, fashion, country where they are from & culture and so on. 
Fans of K-Pop stars like BTS naturally have expanded their attention further to how they look so flawlessly as well. In the end, it reached to Korean Skincare, K-Beauty.
Let me introduce one of the hottest K-Pop female singers as well - 'Black Pink'. If you look closely, their makeup is not heavy basically but looks naturally luminous. 
 Discover the new culture and trend in other fields such as music is another fun when you enter K-Beauty. What about listen to some BTS or Blackpink songs today and release all the stress today?
xoxo
BeautyOn82