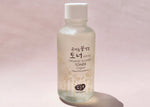 Water is main ingredient above all
If you look at the ingredient list of skincare products, you may find out that water comes first among all those ingredients along. Without doubt, most of beauty products contain water primarily in it. I am not criticizing that water in personal care product is not good but the new beauty trend is moving toward beauty products without water - Waterless beauty. 
Waterless beauty represents two ways - first means beauty products without containing water as ingredient and second means beauty products can be used without water (for example, shampoo that you can use without water). 
When skincare care products contain water, it is not just tap water. Water used in personal care is purified water to be used in formulating cosmetics.  However, although water is fully purified, to be honest, water is not active ingredient for skincare which means it does not supply any nourishing or improving results on skin when it comes to skincare products.Then what about there is no water in my skincare products?
What's good with waterless beauty products? 
Firstly active ingredients without dilution could work better on skin. I personally experience that waterless skincare products not only more hydrates my skin but hydration stays even longer. So when you use those waterless products, you feel that the texture is not that watery but a bit thick. But this thick texture is not heavy feel - just pleasant feel tightening up your skin. 
Second, not much preservatives should be used because water-free formula keeps bacteria growth at bay. 
Third, mostly emulsifier is not needed to mix water and oil based ingredients. We all know that water and oil does not mix. Thus emulsifier needs to be used to mix this two different based materials. If there is no water in it, emulsifier could not be needed. 
Forth, skin can breath and recover on its own by taking out much preservatives, additives and emulsifiers.
Check out waterless beauty products with us and enhance your beauty care! 
WHAMISA ORGANIC FLOWER DEEP RICH TONER 
This lovely toner contains 97.40% of organic ingredients without water. Aloe maculata leaf extract with certified organic grown is filled up this toner. This waterless formula is the main key why this toner is dry skin savior. While water takes moisture when it dries up, this botanical extracts look up the hydration into skin and builds the nourishing layer onto skin. Definitely one of our favorites! Shop Now
WHAMISA ORGANIC FLOWERS HYDROGEL MASK - FLOWERS
Essence in this hydrogel mask primarily contains aloe maculata leaf extract with certified organic grown. Various blissful botanical extracts such as rosewood, bergamot, hazel seed oil and more provides the ultimate glow and hydration all day long. Hydrogel sheet retains essence much stronger than normal cotton sheets so that it can provide the potent nourishing into skin. This hydrogel mask stays onto your facial contour every nook and corner. Shop Now
JUMISO ALL DAY VITAMIN BRIGHTENING & BALANCING FACIAL SERUM
This lovely facial serum is filled with 86.14% of vitamin tree extract  without purified water. I was so fascinated with this product after use because it does not cause any dryness but so moisturising. It was a totally different after use feel compared to my previous vitamin C serum experience. And we know why now that it is thanks to waterless formula with abundant vitamin tree extract. Shop Now