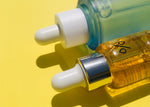 Korean Skincare is attractive not just because of its great quality. It introduces lots of creative beauty tips how to boost your skin the best and how to use your beauty products the best. 
Let me share one of my favorite skincare way. My skin is quite dry. I had to put toner the soonest within 1 minute after washing face otherwise I started to feel dryness on my face. I could not live without facial oil. Whatever I apply as a moisturizer, facial oil had to lock up the moisture. 
This 3 layer serum method is not created by me but inspired by one of my favorite Korean beauty youtubers- DirectorPi (Click here for her video)
I have used this method past 2 weeks and here is what I feel. If your skin is dehydrated or if your skin looks oily but you feel dryness, this method is definitely worth to try!
Key Points of 3 Layer Serum Method
✔️ No multiple steps of skincare. Minimize the steps but use the products only you need.
✔️ Serum is already concentrated formula. Each layer will help to build the skin barrier stronger. 
✔️ Important to apply each layer after previous serum layer is fully absorbed into skin.
✔️ Serum for this method should be the one with gentle ingredients. Avoid serum contains alcohol (most of acne toner contains alcohol to control excessive sebum), artificial colorant, and artificial fragrance because they might irritate your skin if you apply multiple times. 
How To Do
My Result after 2 weeks
Honestly I don't fee dryness after step 2.
So I only add sunscreen at day time at step 3. At night time, I add facial oil to lock up the moisture while I am sleeping. My result is more than just hydration but I have plump and supple feel.
Please remember - these steps are recommendation and can be customized upon your skincare routine and skin type. 
Our Recommendation for 3 Layer Serum Method
 dear Klairs Rich Moist Soothing Serum
Full of moisture boosting ingredients such as beta glucan, hyaluronic acid, and betain is contained. Various botanical extract and essential oil help to replenish your skin. Vegan friendly and ideal for sensitive skin. Shop here
Benton Snail Bee High Content Essence
Potent nutrition from snail secretation filterate, bee venom, niacinamide and various botanical extracts such as bark extract, aloe Barbadensis leaf extract are filled up in this essence. After adding 3 layer, you would feel supple and firmer skin.  
Suitable for all skin types, of course for sensitive skin as well. No volatile alcohol, PEGs, silicones, cruelty free, EWG green level ingredients. Shop here
Benton Cacao Moist and Mild Serum
Full nutrition and mineral of cacao and hyaluronic acid provide the strong hydration deep into the skin. This serum contains 80% of cacao extract. It helps to build the strong barrier onto your skin and to have healthier skin.

No Animal derived ingredients- Vegan friendly, Cruelty-Free, No Fragrance, No Sillicon, No artificial color. Suitable for all skin types including oily skin, combination skin. Shop here