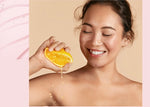 Why do we need Vitamin C?
All creatures including humans are aging as destiny. We can not stop natural aging but we can try to delay it with healthy life style and proper skincare.
Our body needs to make energy. To do so, body needs to burn oxygen. During this process, 'free radical' is made and it damages our cells. This free radical affects our skin aging significantly by causing less firmness, wrinkles and blemishes. 
Vitamin C is one of the strongest anti-oxidants and helps to protect the skin from damaging by UV rays. 
5 ways to use your Vitamin C the best
1. Add vitamin C serum two-three layers
pH level of Vitamin C serum is normally between pH 3.0 ~4.0. When this range of pH level is maintained on our skin, vitamin C is absorbed better into skin. After washing face, skin pH level becomes alkaline temporarily. Natural pH level of our skin is lightly acid (pH 5.5-6.0) but adding toner can help to balance pH level quickly.
Thus, when we apply vitamin C serum onto skin pH level is pH 5.5-6.0 which is not ideal level to absorb vitamin C the most. Adding vitamin C serum 2-3 layers helps pH level of skin goes closer to pH 3 range. Thus second/third layer can be absorbed into skin even better than first layer. 
2. Use vitamin C serum and eat vitamin C together
Vitamin C works wonderfully on surface of body by protecting skin from daily damages from free radical. Try to consume vitamin C together while using vitamin C serum. Consumed vitamin C into body through food or tablets will work from inside of body and skin by providing necessary nutritions, while vitamin C serum works on surface of skin. 
3. Use vitamin C and vitamin E together
Vitamin C and vitamin E is match-made-in-heaven. They need each other as a great team to remove free radicals continuously . Many studies suggest to use vitamin C and vitamin E together in combination to boost the anti-aging effect what you wish for.
4. You need vitamin C serum at day time, too! But don't forget sunscreen.
Our skin is more damaged by UV rays, outer pollution, and daily stress during the day time. So we still need vitamin C serum at day time as well, not just at night time. But don't forget to add sunscreen on top of your vitamin C serum to keep your vitamin C works!
Is this your Vitamin? 
Klairs FRESHLY JUICED VITAMIN DROP
Vitamin C at a concentration of 5%. 
Suitable for all skin types, of course for sensitive skin as well. Klairs is no animal derived ingredients, cruelty free, no dye, no artificial fragrance.
Shop more vitamins here !
Cheers to your brightness and radiance 🍋