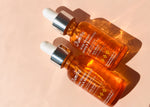 Sun is sizzling. Weather is getting hot.
Check BeautyOn82's pick for summer daily skincare to give you airy hydrating dewy look all day long.
THE PLANT BASE NATURE SOLUTION HYDRATING BAMBOO WATER
Bamboo water contains anti-oxidants and hydrating elements while purified water takes away moisture from you. Store the hydrating bamboo water in the fridge before using it and enjoy the cooling feel.
JUMISO ALL DAY VITAMIN HYDRATING & BALANCING FACIAL SERUM
Enriched with vitamin tree extract containing full of vitamin C and E. This vitamin duo helps to regenerate cells and to improve firmness of skin. It also protects skin from daily damages from UV rays and stressors.
DEAR KLARIS FUNDAMENTAL WATERY OIL DROP
If your skin is dry, you might need both moisture and oil. When moisture and oil is in balance, skin becomes very dry or oily with tightness insde. If you want to lock up the moisture but don't feel like facial oil, 1-2 drops of this watery oil drop will be just airy lightweight strong hydration all day long in summer days.
BENTON GOODBYE REDNESS CENTELLA MASK PACK
I was driving with open window around 20 minutes or so. Later that day, I just started to fee redness and heat on my face from sizzling sun during the day. What I recommend to calm and cool down heat is this benton's lovely maskpack. Centella extracts helps greatly to calm down irriations and to find the skin balance. Essence is lightweight without heavy feel. Perfect for 15 minutes of 'Me' time after a tought day. 
DR.CEUARCLE HYAL REYOUTH AMPOULE
Hydration is always the key in skincare. 6 different complex of hyaluronic acid works better on skin to provide more moisture and plumpness. Hyaluronic acid products normally have a bit slippery due to the characteristics of ingredients. This ampoule is nicely gliding on your skin and instantly absorbed into skin without any heavy feel. Ideal for daily skincare in summer days.