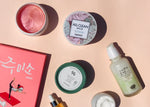 After a long day or weekend, what do you do to pamper yourself?
Blissful aroma therapy or nice massage relax us inside and out. If you can not have aroma therapy and massage everyday, it would be a great joy to turn your 10 minutes of daily skincare routine to homespa aroma skincare.
Check out or top recommend aroma skincare for your exclusive 'me' relaxation time. 
Hemish All Clean Balm
This clean balm is totally aroma massage like cleansing that you will love so much. 10 kinds of aroma oil such as tea tree oil, gergamot oil, lavender oil, orange peel oil and so on create a great combiation with botanical extracts in it to remove the impurities and makeups super gently. Lovely aroma scent from various aroma oil will make you relaxed and it will wash away stress from you.
Klairs Gentle Black Deep Cleansing Oil
If you are more oil lover, this cleansing oil will be such a blissful choice. Blended with 4 kinds of botanical oil such as jojoba seed oil, soybean oii, sesame seed oil, and black currant seed oil in order to remove impurities effectively. You can feel more natural aroma oil in this cleansing oil and aroma scent is so pleasant. These botanical oils are enriched with vitamin and mineral. So they not only provide the full nutrients during cleansing but protecting skin from dehydration.Hydration left on face after washing off is extra pleasure to relieve us from the stress.
Sioris Time is Running Out Mist 
If you want to feel some nature of Korea, Sioris Time is Running Out Mist will bring you the breeze. Organic Korean plum extract harvested in-season is filled in this mist. Along with organic plum extract, aroma oil blend such as sunflower seed oil, orange peel oil, ylang ylang flower oil, and chamomille oil from organic farming will protect your skin and release you for a hile amid hectic days.
Whamisa Organic Skincare Collections
Whamisa is one of our favorite K-Beauty brand. It represents clean & good beauty with honest philosophy both for skin and the earth. If you look at the ingredients list of Whamisa, I am sure you will fall in love with it as recognizing how simple but honestly good organic ingredients are used. Containers are mostly in glass bottles for easy recycling. Creams are in bottle type as well rather than in a jar to keep the products hygenically until the last drop while using it.
Blend of organic botanical oil and extracts brings the natural aroma scent and takes all the stress from you.
Explore Whamisa collection from skin to haircare here.