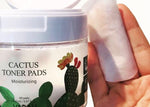 What would be possibly a piece of cotton pad so different ? 
When I met 'toner pads' at first time as discovering new products to curate with us, I was not fully convinced to be honest as thinking 'what would be so possibly different just with the toner in a piece of cotton pad?' 
I already heard and read about 'peeling pad' and 'toner pad' and so on many times in Korean Skincare products but I have to confess that I did not fully know what is so hot about it until I 'actually' use it to test. See below how Korean consumers are crazy about toner pad now. Although language is in Korean, the average rating is 4.6/5 and many 5 star reviews. 
My Real Review 
- Skin type: combination / normal-
- Skin concern: whiteheads/ dryness from weather and water
My previous skincare routine had been simply either put some amount of toner on the cotton pad or on my palm and pat until it is absorbed into my face. At first, I thought this toner pad will be most likely the same as I usually put the toner on cotton pad.However, once I tested it, I could not stop saying 'WOW'. One of my skin concerns since I moved to Europe from Korea was the water. As water was different from Korea (possibly because of 'hard water' in some countries in Europe), I felt much more dryness on my face. Furthermore, dirts and any makeup residues leftover without good cleansing constantly caused whiteheads. And what? This toner pads became my rescuer.
How I used it

In the morning after washing face, take a piece of this cotton pad and swipe face gently. 
It not only removes dirts but also cleanses out any residues left from water on my face in a very mild way. I definatley felt that it smoothes out my skin and super fresh!

Once I applied the daily cream (lotion), hydration became doubled. 

After using it, I store it in the fridge. Chilled cotton pad nicely soaked in cactus extract wakes up my skin and actually very efffective on tighening pores as well. We know that heat can cause the enlarged and loosened pores. When I used toner only with my hands, I could not feel the chillness as my body heat already warms up the toner as soon as I put it on my palm. So it was hard to expect the pore tightening. 

In case of toner pads stored in fridge, chillness immediately transfered my face and cooled down the heat. 

Since using this, I felt the less dryness after washing face. When adding daily cream, actually I didn't feel any dryness all day. Plus, whiteheads start to be gone! 
60 pcs of Big enough Real cotton pads 
Cotton pads are made of 100% cotton. It was not irritated on my skin. Size of cotton pad is big enough to use whole face. 

Even after using for face, it was enough to rub even on elbows, foot heels, and knees to smooth out the skin. 
Result: 
Super fresh and my skin is comforable. 
Less dryness
Whiteheads gone
Easy to use
Amazingly, cotton pads are quiet strong and it was not ripped off at all until I rub down to foot heels to maximize the usage of a piece of cotton pad :)