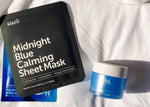 When good skin starts among your day?
I'd say it starts from night before you go to sleep. Rough skin texture and dull complexioin will not go away only with a couple of serums and moisturisers in the morning. If you really want the healthy and glowing skin, it is important to take more efforts on your night skincare routine. If you have not found your ideal night skincare routine yet, here is the Korean skincare night routine to help you. 
Step 1. Cleansing
After a long day of stress and work, your skin also needs to take the rest and relax. It is important to remove dirt, sunscreen and makeup but without irritation. Too harsh cleansing may cause the dryness and break the balance of oil/moisture of the skin.
Start with the mild cleanser removing impurities gently. Majority of Korean skincare cleansers are formulated to low pH level because the ragne of pH level 5.5-6 is most closer to our natural skin pH level so skin feels more conformtable while retaining the skin barrier. Sioris Cleanse me softly milk cleanser is the mild cleanser formulated to low pH level so it is suitable to sensitive skin too.
How to Use
Take 1-2 pumps of the cleanser in your dry hands and rub. Massage gently with your fingertip over your dry face or add just 2-3 drops of water. Potent organic citrus extract form Jeju (volcanic island in Korea) is contained and gives the vitality to the skin. Blissful citrus aroma scent during using it is another good point relaxing your mind and skin. After washing off with warm water, you will love the moisturisation and freshness. 
Step 2. Toning
In Korean skincare, toner takees the big role. It is not watery alcholic liquid that might come up in your mind. Korean toners are formulated with potent hydration such as hyaluronic acid, botanical extract, centella extract and more. Thus the texture is not watery but slick and lightly viscous. As soon as you apply it, you can start to feel the hydration.
Adding the toner after cleansing works to re-balance the pH level of your skin and to add the first layer of nourishment to stressed skin after a day. The Plant Base Nature Solution Hydrating Bamboo Water is what we called 'anti-aging shaking toner'.
How to Use
Shake well before use to mix botanical essence and bamboo water. It provides the instant hydration and calm down the dryness after cleansing. 
Step 3. All in one night care
You might heard of multi-regime of Korean skincare up to 10 steps or more. However, this is not the current trend anymore. Korean skincare is heading to 'less and minimal skincare' so your skin can breath.
If you are ready to step 2, it is fine to move on to all in one night care that will work all night long on your skin.  Sleeping pack is one of the perfect picks for all-in-one night care. COSRX Ultimate Ultra Mositurising Overnight Mask contains 87% of propolis and natural beeswax.
How to Use
Apply liberally over the face and neck and have a good sleep. It will work for your skin all night long and  leave only the glowing skin next morning. 
Not a fan of sleeping pack?
If you are not a fan of sleeping pack, sheetmask is the ideal alternative. Wide variety of kinds and functions of sheetmasks in Korean skincare is beyond your imagination.
Sheetmask is the ritual that can't be missing in Korean skincare for night skincare especially when weather is changing so you need simple but intensive care. Sheetmask already contains most of the nutrients that serum and moisturisur have. So you don't need multiple skincare steps.
How to Use
Simply take one sheetmask after step 2 toning, have a 15-20 minutes of relaxing time. No need to wash it off after taking the sheetmask off. Pat gently until essence left on the face is fully absorbed into skin. If your skin is very dry, it is great to add 1-2 drops of facial oil after sheetmask so facial oil will lock up the moisture and nutrition into skin all night long.