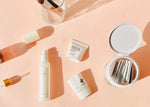 Whenever I see the empty bottles of skincare items I finished up, I feel some kind of satisfaction that I fully used and loved that product.
I test all the products we have here at BeautyOn82 but it is not easy to use them all until they are finished as there are many. So I eventually use the products that are suitable to my skin and what I like. As we have a wide range of selection to choose, hope my empties story can help your Korean skincare selection. 
1.Yadah Oh My Sun Protection Tone Up Base
Sunscreen is always my top priority sunscreen. I prefer to use sun block products with physical sun protection method as this type is safer to share even with my baby and to environment as well. Yadah Oh My Sun Protection Tone Up Base is physical method sun protection that the layer of sunscreen lays on skin and reflects UV rays back from skin. 
I really enjoyed the smooth cream type texture without no heavy feel. Many sunscreens are too greasy or have whitecase. Or many of them have ingredients you actually never heard of and don't know if is safe to use. I loved that this sunscreen is composed with clean ingredients (EWG green levels) so no worry to use everyday. It was also great to use daily even before my BB cream. 
* Note: Physical method sunscreens may cause the dryness if your skin is very dry. It is good to apply rich moisturise before adding the sunscreen in this case.
2. Whamisa Organic Flower Facial Oil
Photo credit @whamisa.official
I have been a big lover of facial oil since I was in early 20s (let's say it was only a couple of years ago..). Especially in freezing winter in Korea, nothing could replace facial oil to protect my skin. I was not afraid of any bitter wind in Seoul with 2-3 drops of facial oil over the face at the last step of skincare. So facial oil was the must-have item especially for winter (actually all year around except summer) . I have tried many kinds of facial oil such as argan oil, oilve oil, rose hip oil etc. It is always fun to try something new and to find what kinds indeed fit to my skin. 
Whamisa organic flower facial oil din't disappoint me. Natrual flowery scent was lovely and it was instantly aborbed into my skin. It also gave the extra glow by using it before makeup or BB cream. 
Whenever I need to be in the dry environemt such as in the office or airplane, facial oil is indeed a strong shield for skin. 
3. Sioris You Look So Young Nightcream
Photo credit @sioris_official
I should say this moisturiser is one of the best moisturisers I have ever used so far. I really feel that my skin is breathing and relaxing. It gives the deep moisturization but no oiliness. I really love the feel that my skin becomes immediately plump and supple. With this cream, I didn't need any extra serum or essence. Toner and this cream was totally enough for daily skincare. 
5% of tamanu oil and macadamia seed oil totally hydrated my skin and left joyful plumpness. Natural scent from tamanu oil was somewhat at first but it didn't take much time until I get used to it. Actually in the end, I really enjoyed it. 
I wanted more people to try this great result so mini sample of You look so young cream was included in 4 step skincare set. 
What are your K-beauty empties you loved and used until the last drop?
xxx
Yeji